Concert Pianist Owned and Operated for over 40 Years

Faust Harrison Pianos is a true family business, led by Sara and Irving Faust, their son Joshua and their daughter Jessica. Sara Faust started the company with the mission of pairing great pianos with pianists at all levels.
We carry the most extensive selection of quality pianos in the country, with over 1,000 of the world's best-known instruments in our five elegant piano stores located in New York, New Jersey and Connecticut.  We are America's largest independent restorer and retailer of heirloom Steinway pianos which we produce in our 12,000 sq. ft. piano rebuilding facility.
We have also recently acquired 4 Stores in the Southern California/Los Angeles Area (Keyboard Concepts).
OUR MISSION
For 40 years, Faust Harrison Pianos has been pairing superb pianos with players at all levels. Founded in 1983, our vision was simple. We strove to provide superior instruments, thereby providing an elevated playing experience for our customers.
Since then, Faust Harrison Pianos has grown to carry the most extensive selection of premier pianos in the country. Boasting over 1,000 of the world's best-known instruments, we are thrilled to serve the greater communities of our nine locations based throughout New York, Connecticut, New Jersey, and California.  Faust Harrison Pianos is America's largest independent restorer and retailer of heirloom Steinway pianos, which we produce in our 12,000 sq. ft. piano rebuilding facility.
OUR HISTORY
Prior to founding Faust Harrison Pianos, Sara Faust won prestigious international piano competitions including Concert Artist's Guild and the first New York Chopin competition. Her solo performances at venues such as Carnegie Hall (Weil Recital Hall) and prime-time performances on WFMT and numerous other revered classical radio stations have been called "dazzling" … "with intense emotional charge". Critics have commented on her "ability and power", remarking on her "touch for every nuance of the human experience."
As a concert pianist, Sara wanted superior pianos for her career. However, she was dissatisfied with the less-than-ideal standards of most rebuilders and felt that new Steinway pianos lacked the magic of the older "Golden Era" ones. So, she hired the best craftsmen she could find to rebuild her vintage Steinways and guided them to restore the pianos to their full former glory.
Sara was thrilled to be able to practice and perform on the premium Steinway pianos that she was resurrecting. When word spread in the performing community that Sara was producing 'great' vintage Steinways, her hobby of rebuilding pianos for her own use turned into something more. First, as a small side business, and then into a full-scale enterprise. Along the way, she also began representing piano manufacturers that shared her passion to build great pianos, including Bechstein, Bosendorfer, Yamaha and Fazioli. Faust Harrison Pianos adheres to the mission it was founded on: Simply, to provide pianos of the highest quality.
The Faust Harrison Pianos Team
Our team includes over sixty highly experienced and dedicated employees. It is led by:

Joshua Faust
Chief Executive Officer

Josh has run Faust Harrison Pianos since 2009. He brings a science and analytical background to the company, having worked in molecular biology labs at Harvard and Cornell Universities. Josh also brings a "customer first" service mentality, gained over many years working at Backroads, a prominent active travel vacation company. Josh is a NYC chess champion (1980), world champion Ultimate Frisbee player (1997) and a national champion tennis player (2021). Josh is a graduate of Cornell University.
Sara Faust
Founder
Sara has been buying, restoring, and selling artist quality pianos since the early 1980's. She also works closely with our expert team of technicians and rebuilders to establish and maintain the industry's highest standards for piano rebuilding. As a former professional concert pianist, Sara brings a perspective to piano building and re-building that is unique in the industry. Prior to founding Faust Harrison Pianos, Sara performed widely and won several prestigious international piano competitions including Concert Artist's Guild and the first New York Chopin competition.
Listen to Sara's most memorable performances

Sam Varon
Vice President, Sales
Showroom Manager, Melville, NY

Sam leads our sales and marketing program and is Faust Harrison's Long Island Division Manager. Along with being a professional musician and earning his music / business degree from Hofstra University, he has over 30 years of piano retail experience. His customer and industry dedication was recognized by Yamaha, awarding Sam their Vice President, General Manager of the year award.
Peter Creighton
Showroom Manager, Fairfield, CT

Peter brings over 40 years of experience in the piano/organ industry. He started in the industry when he was a sophomore in high school working at the Aeolian Showroom in Stamford, CT after school. Peter loves music and believes that no one is ever too old or too young to listen and or create music! Peter now resides in Litchfield County, CT with his wife Deborah. They have 4 grown children and 10 grandchildren, all live in Connecticut!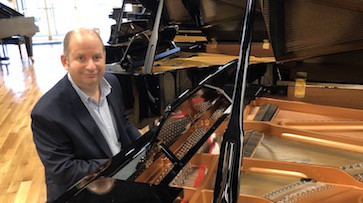 Dean Tomanelli
Showroom Manager, Paramus, NJ

Prior to entering into a career in piano sales, Dean had over 25 years of experience as a professional jazz pianist, ensemble leader, and piano teacher. The combination of these skills has proven to be a most valuable asset in helping customers make just the right selection. Dean has performed in renowned New York spaces such as Carnegie Hall and The Rainbow Room, and has lent his musical services to the likes of Disney, CBS, NBC, and Tri-Star Motion Pictures.
Dmitri Shelest
Showroom Manager, NYC

With both piano performance and business degrees, Dmitri has found Faust Harrison Pianos a perfect place to combine his knowledge of the piano industry with his passion for musical excellence. As a pianist, Dmitri has formed a duo team with his wife Anna Shelest. Not only have they performed at an array of venues stretching from Carnegie Hall to state functions, but they have the won various awards for their many competitive performances. The duo has released multiple recordings as well, which has been aired on over 100 radio stations nationwide. Outside of Faust Harrison Pianos, Dmitri enjoys his active work as a recording producer and engineer.
Gordon Martin
East Coast Institutional Sales Manager
Showroom Manager, White Plains, NY

Gordon has traveled extensively as a studio musician, guitarist, vocalist and producer in many styles of music in various locations including Nashville, Los Angeles and New York. With degrees in music and business, he has worked in the piano industry specializing in assisting music educators, conservatories of music, professional music organizations, colleges and universities with obtaining fine quality pianos for more than 20 years.
John Watts
Sales Consultant

Originally trained as a classical pianist and composer, John has 15 years experience helping clients select the perfect piano or digital keyboard for their needs. He has tutored individuals such as Andrew Lloyd Webber, Marvin Hamlisch and Dustin Hoffman on their respective digital instruments. John has a BA in Music Theory & Composition from Brown University and an MFA in Graduate Musical Theatre Writing from NYU's Tisch School for the Arts. He's a member of ASCAP, a voting member of the Dramatists Guild and a member of the Commercial Theatre Institute (CTI).
Richard Sasnow
Sales Consultant
Richard has over 40 years of experience selling pianos. Well fastened in the industry as technology became increasingly more imbedded in musical instruments, Richard had a hand in first introducing the musical community to the instruments that are now the blueprint sounds sampled on most Yamaha digitals. Richard's expertise in Yamaha, Bosendorfer, and C. Bechstein pianos has aided his ability to guide musicians toward the instrument that is the best fit for them, making Faust Harrison Pianos an excellent home for his talents.
The Importance of a Piano Dealer



Choosing the right piano dealer can be as important as the piano that you choose.